Heydar Shadi (Hrsg.) Islamic Peace Ethics. Legitimate and Illegitimate Violence in Contemporary Islamic Thought. Baden-Baden: NOMOS. 1. Auflage 2017, 263 pages.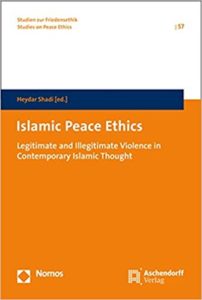 This book addresses the arguments of contemporary Muslim thinkers regarding war and peace. It takes into account the confessional, geographical and ideological diversity of Islamic peace ethics and includes papers on peace ethics by different groups and scholars who represent both the Sunni and Shi'a branches of Islam, as well as on different attitudes towards violence from pacifism and traditionalism to fundamentalism and jihadism. The contributors are academics from different countries including Indonesia, Pakistan, Iran, Turkey, Germany, the UK, the USU and Belgium. The chapters of the book discuss the topic from different disciplinary perspectives, such as theology, philosophy, religious studies, cultural studies and the political sciences. The book is divided into three parts: a) the methodology and theory of Islamic peace ethics, b) jus ad bellum and c) jus in bello.
With contributions by:
Dirk Ansorge, Abdessamad Belhaj, Seyed Hassan Eslami, Oliver Leaman, Simona E. Merati, Najia Mukhtar, Charles M. Ramsey, Sybille Reinke de Buitrago, Yahya Sabbaghchi, Heydar Shadi, Bianka Speidl and Asfa Widiyanto.